2019 has been another successful year for RES-Q due to hard work and continued cooperation of all of the participating hospitals as well as RES-Q's partners.
---
As a project of the European Stroke Organization, the continued support from the entire ESO organization, as well as the ESO EAST programme, has provided many of the resources that have allowed the project to grow and to be accessible to hospitals around the world. The involvement of so many new countries from outside of Europe this year has been very encouraging, and thanks in large part due to the cooperation of international stroke organizations such as the World Stroke Organization, the Ibero-American Stroke Organization, the Angels Initiative, and the many national societies which have begun advocating for RES-Q and the need for more collaborative quality improvement initiatives worldwide.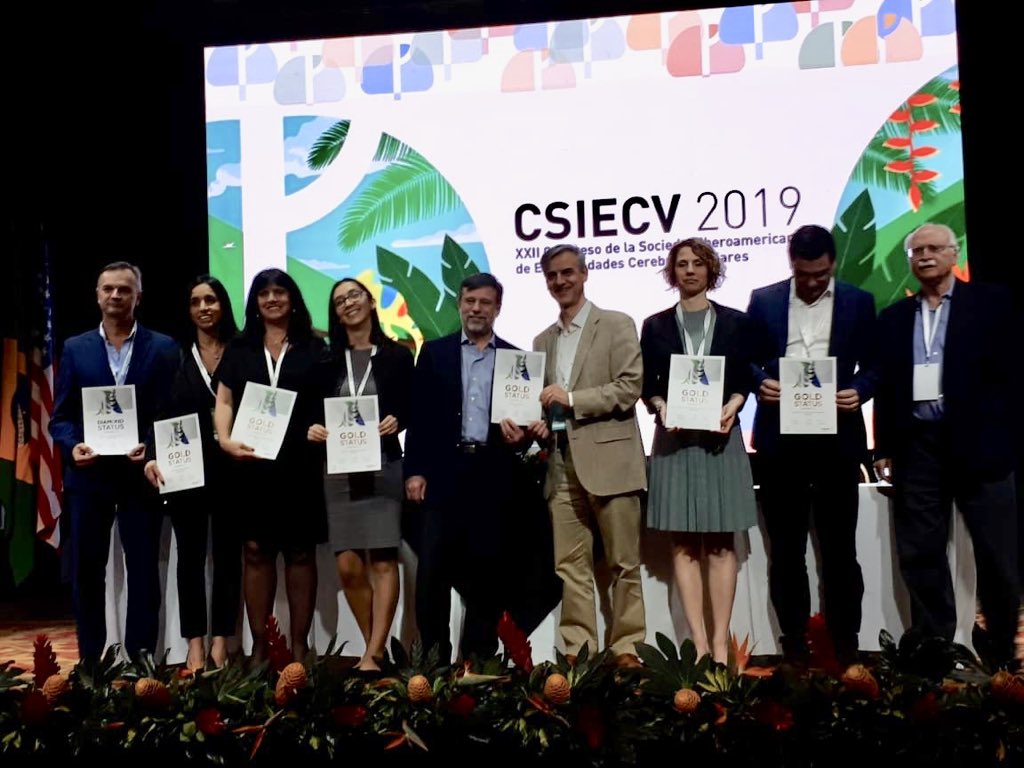 We saw the results of many of these quality improvement initiatives already this year through the excellent results in the Angels Awards programme. Both the World Stroke Organization and the Ibero-American Stroke Society joined the European Stroke Organization this year to begin conferring Angels Awards recognizing excellence in stroke care quality in hospitals around the world. The first Angels Awards in Latin America were conferred by the Ibero-American Stroke Society this year.
In 2019, there were more than 70 Diamond level Angels Awards conferred based on data collected in RES-Q, and more than 250 hospitals receiving either gold or platinum awards. This is an amazing accomplishment from all of these hospitals, and we're looking forward to seeing even more hospitals achieve these results in 2020.
To support the growing interest in the Angels Awards programme, RES-Q also added a new Angels Awards portal to our website this year at https://qualityregistry.eu/awards/. This new portal allows National Coordinators, ESO Awards Steering Committee members, and conferring organizations (such as ESO, WSO or IASO) to review and approve awards from a secure, unified platform. The goal of this portal was to make the awards process faster, more open, and more transparent for all participants. Information about the platform is available for everyone from the Help page of the portal: https://qualityregistry.eu/awards/help/.

In addition to the new Awards portal, hospitals are also always able to see their current performance towards the Angels Awards directly from the RES-Q dashboards, accessible with their regular RES-Q username and password at: https://qualityregistry.eu/data. There have been several new improvements to these dashboards this year, so we encourage everyone to have a look at them.
The RES-Q development team has also been very busy in 2019 working on improving the functionality of the platform, adding new features and better accessibility for new participants, and working on adding cutting edge technologies to the available data analytics.
To support some of this work, RES-Q is part of the COST action Implementation Research Network in Stroke Care Quality (IRENE) with RES-Q manager Andreea Grecu elected as the Workgroup Leader for the registry development group. Find out more information about IRENE at https://www.irene-stroke.eu/, including information about how you can participate.
The RES-Q IT group attended World Summit AI in the Netherlands in October, and will be looking to use that experience to add innovative new capabilities to the platform in 2020.
Several new translations of the RES-Q form were added this year, including Spanish and Korean. This has only been possible thanks to the hard work of RES-Q partners and participants in these countries that have translated and reviewed the form so it can be made available for everyone.
Finally, RES-Q is part of the ESO EAST paper which was recently accepted by the European Stroke Journal, so watch for that publication in the coming year!
---
Thank you to everyone for all your participation and support throughout 2019, and we look forward to another big year working with everyone to improve stroke care for all patients globally in 2020!