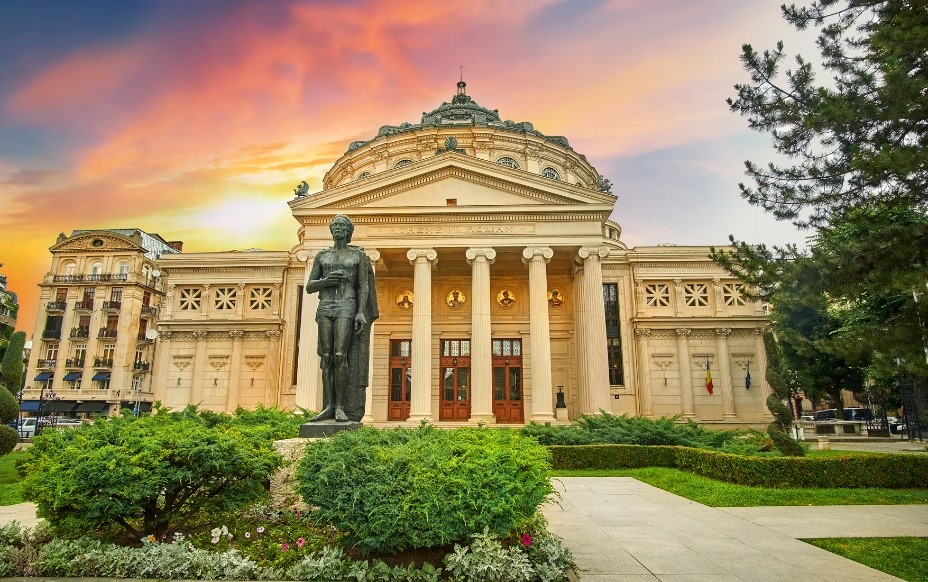 How did Romania start in ESO EAST?

In Romania, Assoc. Prof. Dr. Cristina Tiu is actively involved in the ESO-EAST project as the coordinator of the Romanian group and under her coordination Romania joined ESO-EAST in 2015.

The first quality assessment of stroke care in Romania was performed as a part of the ESO-EAST project, by analyzing the data collected in the RES-Q Registry.
Romania contributed data to RES-Q since its initial pilot phase in late 2016. How has seeing the actual numbers for the quality of stroke care helped?

Registering data for quality of stroke care helped us to identify dysfunctional areas in hospital care for stroke patients and improve them.

Here are some of the improvement registered in Romania over the last three years.

The proportion of patients treated with intravenous thrombolysis changed significantly from 2.24% in 2017 to 5.19% in 2018 and 8.99% in 2019 in the centers participating in RES-Q.
Door to needle time decreased from median 67 min in year 2017 to 58 min – 53 min in 2018-2019.
The proportion of patients screened for dysphagia within 24 hours from admission increased from 1.99% in 2017 to 47.87% in 2018 and decreased to 34.7% in year 2019, due to new hospitals joining the program.

Registering data in RES-Q was essential to get a clearer view of the real stroke care situation and motivated the whole country to improve the treatment of stroke patients.
What would you like to see in RES-Q next?

I think that having data from more hospitals would give an even more representative situation of the stroke care within the country.
What do you think the biggest contributor to reducing disparities in stroke care would be?

In my opinion the biggest contributor to reduce disparities in stroke care would be education.

We see disparities in every aspect of stroke care, from lack of awareness for stroke risk factors and symptoms to delayed arrival to the emergency room and increased waiting time. Therefore, it is very important to improve stroke prevention and stroke recognition by educating the public and the healthcare community. For sure, the stroke care can be improved even further.
What is the current situation with stroke care in Romania?

Romania is a country of 19.3 million inhabitants, with about 60,000 patients with acute stroke registered annually, most of which are ischemic strokes. In Romania, stroke represents the second cause of mortality and disability. According to the burden of Stroke report, in 2015 only 1% of Romanian stroke patients had access to treatment in Stroke units.

Having recognized the alarming rise of acute stroke patients per year as something that can and needs to be fixed, the the Romanian Society of Neurology and the Romanian Ministry of Health have recently implemented a national project that lead to the significant increase of the network of hospitals ready for stroke treatment.

With the implementation of this project started - in February 2019, Romania benefited of one of the fastest stroke network expansion in Eastern Europe: tripling of the stroke centers, from 11 to over 40, within only a couple of months. At this moment, there are 38 stroke centers in Romania and we are working hard to have the 43 stroke centers able to perform intravenous thrombolysis by the end of this year.
Would you say the attitude towards stroke from lay people (non-clinicians) has changed? Are there are any awareness campaigns running right now in Romania?

It is absolutely necessary to educate the population for the early recognition of the signs and symptoms of a stroke.

As mentioned above, in Romania at the beginning of this year for us was a big change to have 32 more treating hospitals. In this initial stage the focus is on educating the medical personnel involved in the patient's pathway (emergency service operators and ambulance service personnel, as well as the medical staff in the hospitals where the program will be carried out).

The education of the population is for sure something that needs to be considered and that can be achieved through media campaigns (television, print media) or educational campaigns involving the family doctors, with wide addressability, both for the high-risk age groups but also among the young and adolescents who will be able to react promptly if a parent or grandparent suffers a stroke.

In this moment there are some awareness campaigns in our country that are running different from region to region. Nevertheless, there is the need to increase them.